Photography is all about capturing the moment. When you are traveling, most often there are times when you see something that catches your attention and by the time you reach for your camera bag, unzip it, pull the camera out, take the lens cap off, meter and fire away, the moment passes. While some of these steps cannot be avoided, some can be definitely sped up. Especially, the time required to access the camera. When you are traveling, you cannot always have the camera dangling around your neck. Not only will it hurt your neck after a while but your camera will be prone to the weather elements as well. Dust and humidity are not really your camera's best friends. When you have invested in expensive gear, it is as important to invest in the right kind of a bag.
When it comes to bags I have always preferred the ease of a slingshot bag because it provides quicker access to my equipment. But anyone who has used a slingshot would know that it is not comfortable on shoulder for long hours. Backpacks on the other hand distribute weight more evenly and naturally than a sling bag.
I have been a recent fan of Vanguard products because of their quality and great value. So when I got my hands on the Vanguard 2Go 46, I decided to put it through its paces. I took it along on my trip to Vrindavan to shoot the Holi festival. Holi, the festival of color, is a fantastic photo-op but shooting it needs a lot of preparation. You need safety covers for your bag and camera gear. Holi in Vrindavan is played by a very enthusiastic crowd and once you start shooting, in no time you will be doused with colors. It is not just you but also the camera and the bag that takes the hit. Having the right bag that is capable of protecting your gear and at the same time allowing you to easily load and retrieve your camera is of utmost importance during such shoots.
Vanguard 2Go 46 is a mid-sized day-bag which can easily fit a DSLR with a medium zoom attached and 3-4 additional small lenses and accessories. Its dual compartment design provides ample space for personal items too. It can also carry a 14 inch laptop or a tablet. However keep in mind that it cannot really hold pro telephoto lenses like 70-200 mm or 100-400mm. Well, it was never meant for these professional lenses in the first place. The size of the bag is just about right for me and the bag in itself is quite light at around 1Kg.
I chose this backpack because;
It provides me easy access to my camera and my walk-around lens
It has the comfort of a backpack which is what I need when I am shooting long hours at events like Holi.
The bag is an excellent organizer allowing me to keep my personal items separate from my camera gear. It has generous space to stow my personal items like sun-block, sun glasses, my mobile phone, my daily essentials, and snacks.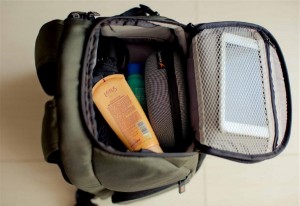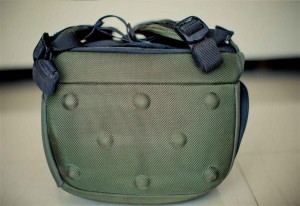 The bag features an ergonomic harness system including a chest strap. The straps are strong, well-padded and firmly secure the backpack high on your back. Carrying gear weighing over 5 to 6 Kgs all day can never feel great but the bag's design makes it easy to carry it around.
Vanguard 2Go-46 backpack is for the "On-the-go Photographer" in you. 
The most important feature in this bag is its quick access system which lets you be ready in an instant to shoot. You can easily grab your camera with lens attached from the side opening after just slipping off one of the shoulder straps. The front opening allows for quick loading and retrieving additional lenses. But it is a little difficult to access the lenses kept in the lowermost compartments. I used these compartments for lesser-used lenses and chargers. This could have been designed better as having two quick access points is a definite plus.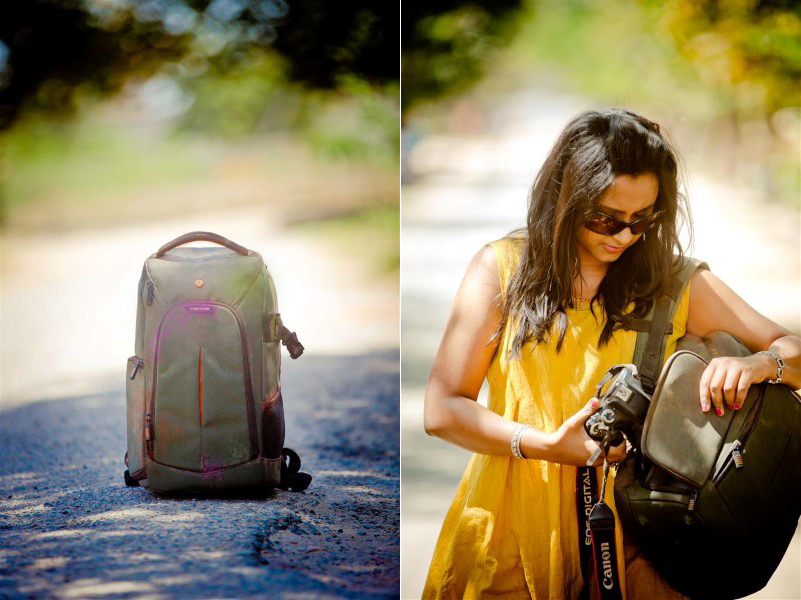 As always, Vanguard has paid good attention to detail. All the adjustable straps on the bag come with a Velcro fastener which can be neatly wrapped around the extra lengths. This makes the bag look neat and clutter-free. Most bags I have owned lack padding at the bottom and/or the back. Vanguard has this covered. The bag has air-mesh breathable padding at the back and cushioned dot shaped bottom which protects the gear from shock and can survive some rough use. There are tiny compartments for memory cards and a zippered compartment for your documents, lens caps, cleaning cloths or cellphone.
There are straps on the side of the bag designed to carry a tripod.  It can also be used to hold a water bottle and attach additional compatible lens pouches or accessories when not carrying a tripod.
The bag is water resistant and also comes with a rain cover for that extra protection. When not in use the rain cover can be neatly folded and tucked away in a pocket under the bag.  I like the fact that the rain-cover is detachable. This served really handy when my DIY rain cover tore while shooting Holi and I could quickly detach the rain cover from the bag and use it to protect my camera. The bag by itself could take quite a few hits of colored water and survived to tell the tale!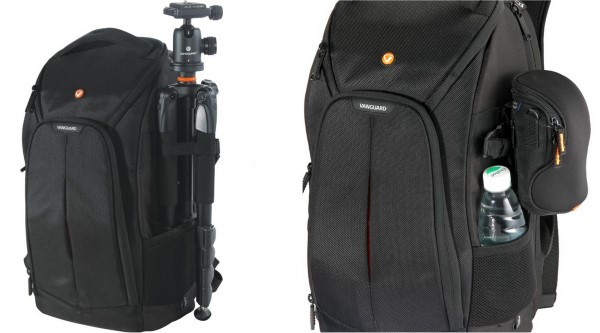 The good:
Practical quick access system;
Comfort of a backpack;
Lots of room for personal items;
Good build quality.
Choice of two colors – Black and Green
 The bad:
Cannot fit a professional telephoto lens (although it can fit semi-professional lenses like 18-135mm, 18-200mm, 55-250mm or 70-300mm)
At a little less than 6000 INR, it is slightly expensive compared to daypacks from other brands (but then quality comes at a price);
Can only fit up to 14inch laptop;
A little difficult to access the gear in the lowermost compartments.
 Final Word:
The bag's split compartment design makes it great to be carried along on a 1 or 2 day trip or on your photo-walks during the day. The 2Go 46 makes me really think about what I really need during my short trip, thus helping me avoid overpack. Especially on days when I go out for a short hike, I do not want to haul around all the lenses I own. I would probably want to carry my camera with my 24-70mm and 50mm. But it would be great if Vanguard released a bigger version in the 2Go series as I would like the option to sometimes carry along my 70-200mm too.
"If you are looking for comfort of a backpack in combination with a quick access system and you do not plan to carry very large sized lenses, this bag will suit your needs."
For me, the 2Go 46 served well by ensuring I was ready to shoot when needed and most importantly protecting my gear from colored water.
You can buy Vanguard 2GO 46 Camera Bag from Flipkart
 P.S.  I will also be reviewing a backpack which can fit professional lenses very soon. 
© 2014 Neeta Shankar Photography. All rights reserved.
If you want me to shoot your portfolio / Wedding / Couple Portraits – Book now!
[fbcomments width="100%" height="500″count="off" num="25″]