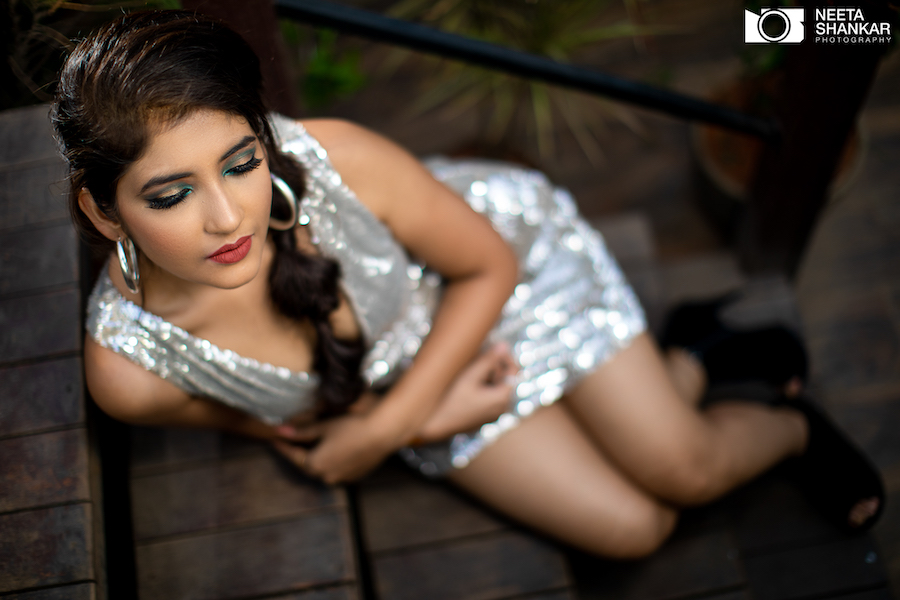 A couple of days ago, I got one of the first few demo units of Godox V1, which is probably the most awaited Godox product ever. The product is officially releasing in India on May 20th (Canon mount) and June 1st (Other mounts). But Godox India sent me this flash a little before the release date.
I have so far used V1 in a couple of portrait-shoots and a fast-paced South Indian wedding shoot in the past four days and here are my first impressions. I have always in the past said that AD200 is my most favorite Godox product, especially in Wedding shoots. Now I think V1 comes a close second. The combination of both these flashes and LC500 LED light stick will be my go-to Lighting Gear for Weddings. Read on for my final thoughts on who this product is best suited for, my tips on making the most of V1 and to see the images shot primarily with V1.
First of all, the biggest difference in this speed light to others like the Godox V860II is also the most talked-about and anticipated feature of V1 – its round head. Round head feels the most natural for an external light although not a very common feature among speed-lights. Prior to this the pocket strobe Godox AD200 also came up with a round-head attachment. Ever since the H200R was released I have been using it in my shoots and I prefer it so much more over the rectangular flash head. Since an external lighting source is basically mimicking the sun and the sun is round, so why should an external light head be a different shape? The light falloff from a round head is a lot more gradual, the spread is even and the light quality pleasing.
The biggest difference between the AD200's H200R and V1, however, is that – V1 being a speed light has a fresnel head and is zoomable. By changing the zoom on V1, like in any conventional speed light, you can control the light spread and reach. By setting a longer focal length, you can direct the light beam to be narrower but reach much further ahead. Conversely, you can set the wider focal length to spread the light beam across a wider (and shorter) region. But the H200R is a bulb in a reflector like a traditional strobe but with a diffuser plate on the front. It does not have zoom capabilities.
V1 is a 75Ws flash with a Guide number of 92 ft (at 100ISO and 50mm). The build quality of V1 is good and sturdy. The screw lock has been changed to a flip lock with a switch which makes it so much easier and faster. The screw lock was always slightly uncomfortable for me as sometimes I wouldn't lock it thoroughly on camera and the contacts would be loose. I love that the V1's head can rotate 330 degrees and tilt 120 degrees. So every time I have to reverse tilt to bounce, I don't need to keep rotating the flash head.
There are significant changes in buttons and menus. The Master-Slave menu has been simplified and it makes it really easy and quick to set up this flash as the controller and dial in the power of different lights controlled by this in 4 groups. It's also much quicker to switch to Radio Slave / off-camera flash mode. This felt much faster in the wedding shoot where I keep shifting from using it as an on-camera flash to using it as a trigger to fire off-camera flashes. Overall V1 feels much easier to use, especially for new photographers.
The power increments can be made in 0.1 steps now. And for quick adjustments, you can also change the same in full stops making it quicker to set up the flash power. There is also a TCM (TTL-convert-Manual) Mode which allows you to switch from TTL to an equivalent reading in Manual with the press of a button. This was extremely useful for me as a Wedding photographer who wants to make quick power calculations using TTL metering but prefers shooting in manual. TCM can give you the value of power required and then you can make finer adjustments in Manual depending on the need for flash exposure compensation. There is also a Channel scan feature which lets you know the safe channels to use when there are multiple photographers shooting with similar lights in the area. Overall, I felt the newly designed menu helped me in making my shoot workflow faster.
There is also a Modelling LED lamp that is new to this speed light. In low-light scenarios, it can come in handy for determining the light falloff or to help with focusing, and also during closeup and macro shots where minimal flash power may still be too much. BTW, the minimal flash power in this is 1/256 vs 1/128 in other speed lights. The Modelling LED lamp can be increased in power in 10 increments.
Since the flash head has a magnetic rim, one can use AKR1 accessory kit with it. Especially for using the color correction gels, dome diffuser to diffuse the light, honeycomb grid to avoid light spill, snoot to direct the light or barn door attachment to shape the spread of light, AK-R1 is a great alternative to expensive Magmod modifiers. If you already have invested in Magmod system, then you can also fit the Mag-grip on the round head of V1.
The battery is a new Li-ion polymer 2600mah battery that can last more than 480 shots in full power. Typically, these Li-ion battery powered flashes easily last a day's wedding shoot for me. V1 comes with a compact USB-C charger.
Things you should know: The flash recycle time is supposed to be around 1.3 seconds in full power which is great! Although, during my first shoot with V1, when I used this flash in full power for a long duration, the battery heated up and the recycle time became much longer. Although I didn't understand what was happening at that time, I later came to understand that this is because Godox has put in thermal protection limit to 30 full power flashes and beyond that, it takes longer to fire until the battery cools down. I was, of course, putting the flash through a rigorous test because I was shooting in broad daylight trying to understand it's pros and cons. (In broad daylight, I would generally at least prefer an AD200.) This of course never happened while shooting in lower power indoors during the wedding shoot and the flash was able to recycle soon enough.
One minor design flaw I noticed is in the battery compartment. The battery slides into place through a hole in the flash. It slides out of the other side with the press of a button. I had accidentally pressed that button while shooting, and the battery had partially slid out of its place. Although the flash continued firing, this can become quite irksome. Hope Godox switches back to the previous battery compartment design in the next version.
Final thoughts:
Most often photographers invest in a flash without understanding the conditions for its best performance. One should not expect a 75WS speed light to perform on the same lines of a 600W mono-light. Both have different purposes and are meant for different scenarios. Invest in the gear that is most suited for your usage.
V1 is a great buy for photographers who would like a flash for both on-camera and off-camera use. Direct modifiers like the AK-R1, Magmods, Umbrella, etc can benefit out of its round head and produce better light quality, an even spread and a gradual falloff. The round head may not make much difference while using V1 with an Octabox/Parabolic Softbox as the light is reflected and modified internally to fill the modifier's shape.
If you don't own a flash already, get the V1 over the V860ii. The simplified menu and ease of use along with its beautiful light quality from the round head will definitely help. If you already have the V860ii, consider upgrading to the AD200 instead which is a lot more powerful and versatile. You can get the H200R for the AD200 and use AK-R1 with it as well. If you don't have the budget for AD200 or V1, you can start off with the Godox tt585 with TTL, HSS, Radio Slave features which is a really inexpensive flash and with the right modifiers, it can work well for you.
Tips for making the most out of V1
The round head does help in producing more smooth and evenly distributed light with a gradual and better falloff. Compact Magnetic Modifiers AKR1 is convenient for modifying light quickly when time is of the essence. If you already own a Magmod system, you can use that as well.
Don't expect the softest of light from a small flash by itself. No small source of light can produce a really soft light. Instead, think about how you can soften it, modify it. If you are on a budget, get an inexpensive White shoot through umbrella or the black/silver umbrella for indirect light. Or you can invest in a small Softbox / Octabox once the Godox S-bracket for the round head is released.
Keep in mind V1 is a 75Ws flash and this power is not meant for overpowering the sun. If shooting outdoors, take care to place your subject in shade or shoot early morning/late evenings. If you need to shoot in direct sunlight, you will need more powerful strobes – AD200, AD400Pro, AD600Pro. 
Keep in mind that shooting continuously on full power will overheat your battery and your flash may not recycle fast due to thermal protection.
Keep in mind that using HSS will make you lose power on your flash. This is true for any flash/strobe and the power loss is quite evident in small flashes. 
Here are some pictures I shot in my first shoot with V1. When we conduct Portrait Photography Workshops, participants usually ask me about how they can get started without investing too much money in Lighting equipment. If you are not a commercial photographer, you can manage with smaller flashes like V1, provided you keep the tips I mentioned above in mind. Here, in this shoot, I purposely didn't carry my AD200 and AD600Pro, so that I can avoid the temptation of switching to powerful equipment. All the images are lit with V1 as the key light. Hope you like the images. Do leave comments if you have any questions.
In the pictures: Ankita Singh
MUA: Sonia Keer Dhawan
V1 with AK-R1 Dome diffuser

V1 with AK-R1 Dome diffuser

V1 and AK-R1 as Key, Sunlight as Rim

V1 and AK-R1 as Key, Sunlight as Rim

V1 and AK-R1 as Key, Sunlight as Rim, Reflector for Fill

V1 through white shoot-through umbrella

V1 through white shoot-through umbrella

V1 through white shoot-through umbrella as Key, V860ii as Rim

V1 through white shoot-through umbrella as Key, V860ii as Rim

V1 through white shoot-through umbrella as Key, Sunlight as Rim

V1 through white shoot-through umbrella as Key, Sunlight as Rim

V1 through white shoot-through umbrella

V1 through white shoot-through umbrella as Key, Sunlight as Rim