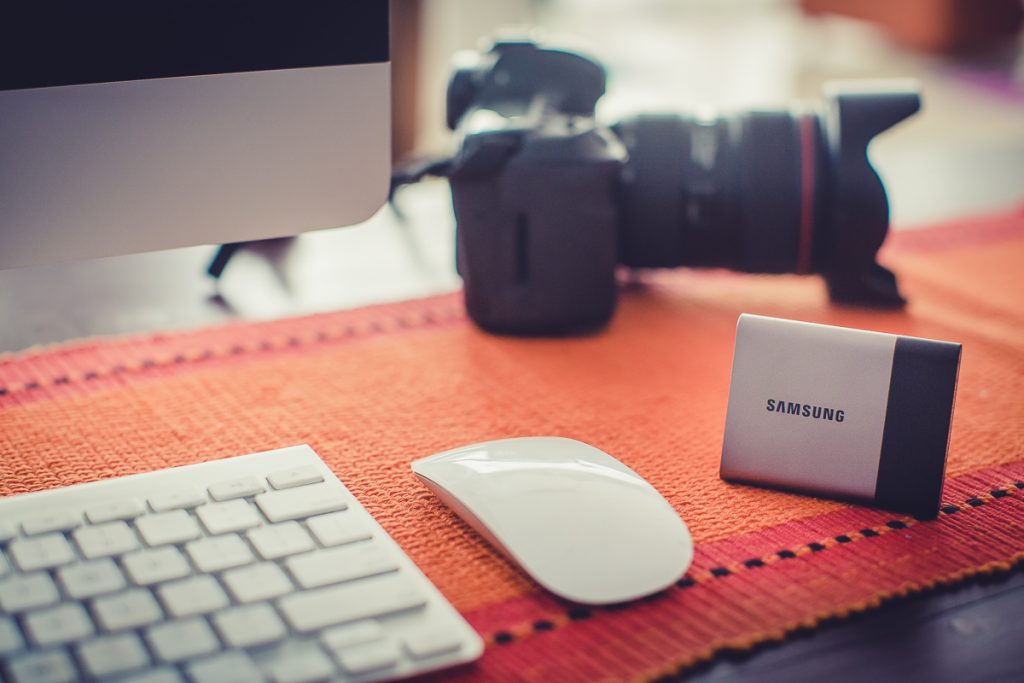 As a professional photographer, your equipment has an impact on your success to a certain degree, irrespective of your ability and skill. If you've invested in any high-resolution DSLRs in the past few years, you might be facing storage crunch after a day of shooting GBs worth of RAW files. This is especially true for Wedding Photographers. Standard platter hard drives can easily get corrupted, and laptops memory and storage is pitifully slow & small. And when you are shooting back to back assignments, the last thing you want is to start a shoot with your previous photo shoot's data still in your memory cards.
For many, the best solution, especially if they're working on a slim laptop without a lot of storage space, is to get a portable external hard drive to backup and/or store their photos. Each of us must find the right balance and tailor a backup plan that meets our business needs and fits within our resources. Essentially, I would need:
A rock solid system that ensures my clients' images and my work are safe and secure (even while on the move).
Preserve original raw files and derivatives (not necessarily all of them, but at least my final selects). I don't want to have to throw away my camera raw files simply because I have no space to preserve them.
Defend against the factors that can destroy our data.
Light & easy to carry
Lightning fast transfer speeds
Recently, an old external harddrive of mine crashed, and I lost a bunch of data. While all of that data had already been delivered to the clients (phew!), there were a lot of my favourite images in there which were not yet online or backed up. I didn't do multiple backups back then (something I now religiously do on a NAS).
Also, I realised the need for a fast drive to carry my work around. Be it images ready to be processed during my free time while traveling or processed images ready to be blogged or uploaded on social channels or full sets of wedding images to showcase at our client meetings, having a fast drive always available with me would really help my workflow.
That's when I started looking for a substitute, which is reliable, secure and worth investing in. And after some research, I decided that going with an SSD was a good idea. I got a Samsung Portable SSD T3 with 2TB capacity.
Build – Durability
The T3 is probably the safest drive I've owned because of its durability and its shock-proof feature. With an Aluminum and plastic shell, I don't have to worry about it if I just toss it in my camera bag in a hurry.
Design – It's quite compact.
Coming in at smaller than a business card, the T3 only weighs only 51 gms and can easily slip into a shirt pocket or camera bag. It's so lightweight that you'll probably think it's hollow the first time you pick it up!
Fast – Quick on its feet
The days of waiting ages for files transfer are over. T3 is insanely fast. For the first time when I transferred shoot images to my Mac Book Pro(with a solid state internal drive), it took me 20 secs to transfer 5 GB of data! On my iMac (with a fusion drive), it took me about a minute to transfer 5GB of data which is still really fast compared to all other drives I have owned. T3 is also especially useful if you transfer a lot of data across machines. My team helps me in culling our sets and I work on the final culls. So we end up transferring huge amounts of data between multiple machines. T3 has indeed helped us save a lot of time!
The Final Word – Worth every penny
If you're a photographer looking for a new external hard drive to give you some peace of mind in the field, the new SSD T3 series from Samsung really should be on your purchasing list. You can get yours from here.