Back in December 2015, when we started to create Wedding Films, we started curating equipment for the same (For the complete list of gear I use, check What's in my bag). One of the first things we knew we would need was a sturdy, stable and lightweight monopod. We looked at many options before deciding on the Sirui P204S as the best Video Monopod that fits our requirement and budget.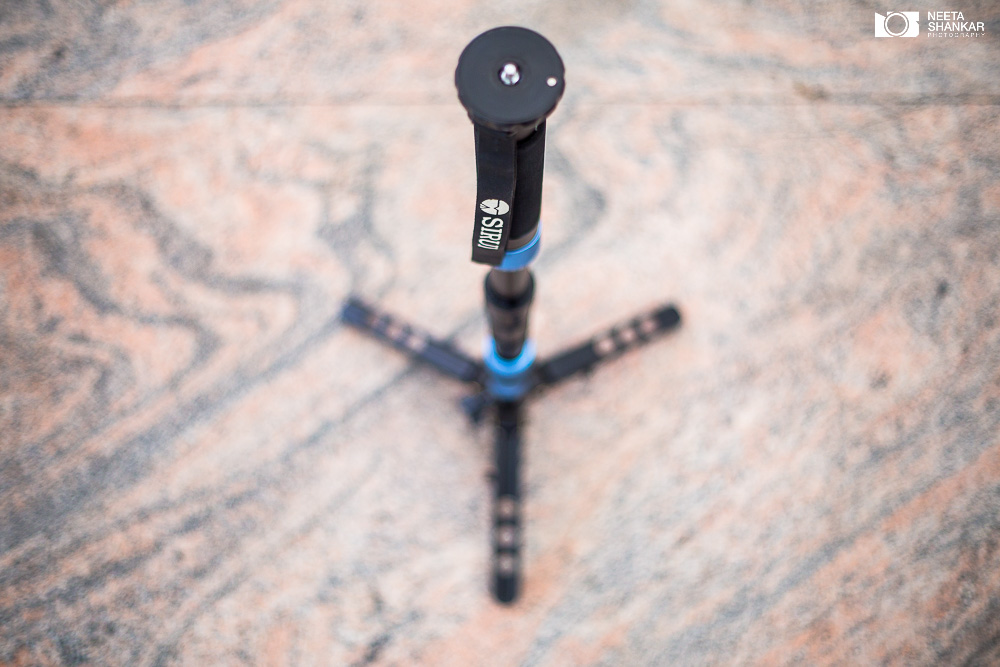 The Sirui P204S has an aluminium alloy build. The monopod weighs 1.4 kg and holds up to a load of 8 kg. It checked all the tick boxes except the "lightweight" box. Although, after further research, we realised that the Carbon Fiber version of the monopod is lighter by only 100 grams but a whopping 25,000 INR difference in Amazon India (80 USD difference on Amazon.com) than its aluminium alternative. For a mere difference of hundred grams, it didn't make sense for us to go with the Carbon Fibre option. The monopod costs almost 10,000 INR (amazon.in). The built quality is strong and sturdy. The design is well-thought out and practical. Unlike most monopods, it comes with a great quality padded bag, which is a big plus.

The Sirui P204S comes with a good quality foam grip and a wrist strap, both of which make it comfortable to use the monopod for long periods of time in diverse conditions. It has the capability of acting like a tripod with the use of the fold-down support feet extension. This folding feet extension gives more stability to the monopod and can be detached to make a table top / low angle tripod. It's nice that Sirui paid attention to little details. The ball head mechanism at the base enables it to tilt 20 degrees in any direction and has a locking mechanism. Right below the foam grip, there is a twist lock that controls the levels of resistance required for panning. It enables the user to create a smooth 360-degree pan. Once you figure out how to use it, it is easy to work with and can result in a pretty smooth panning shot.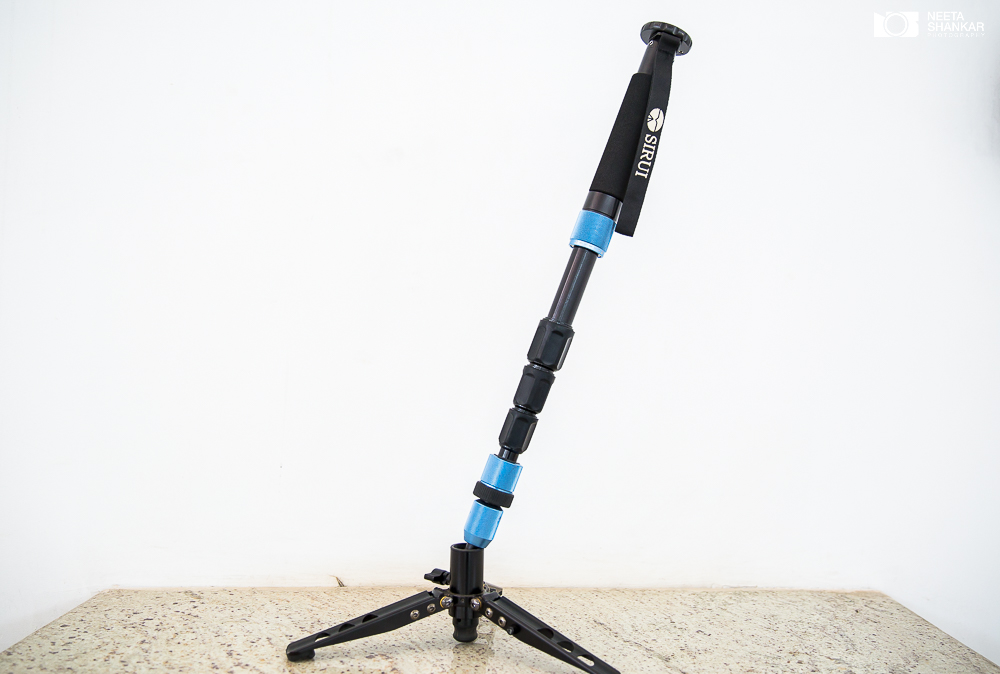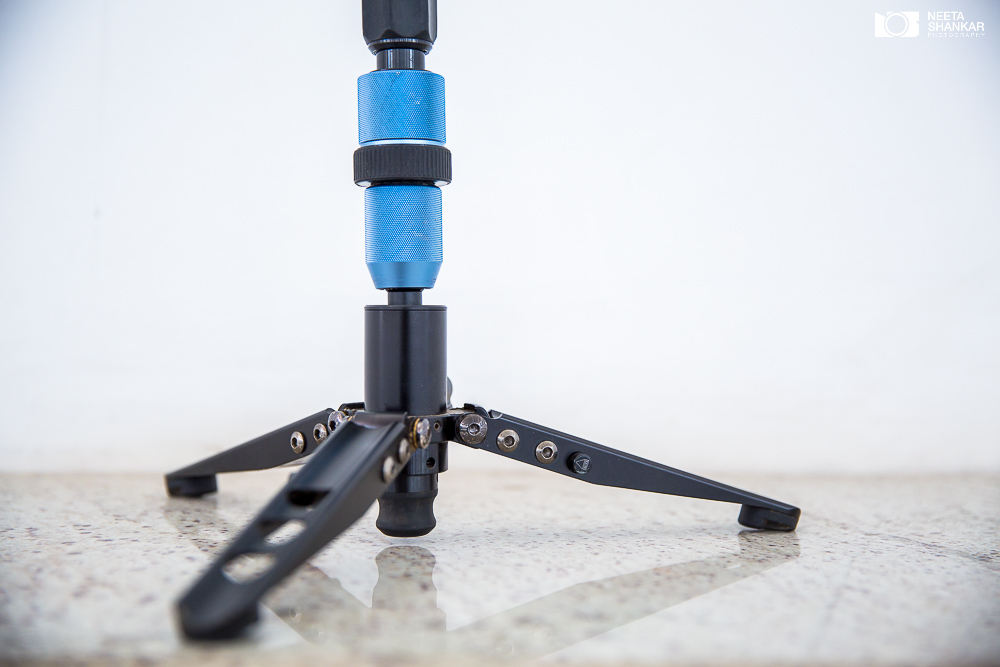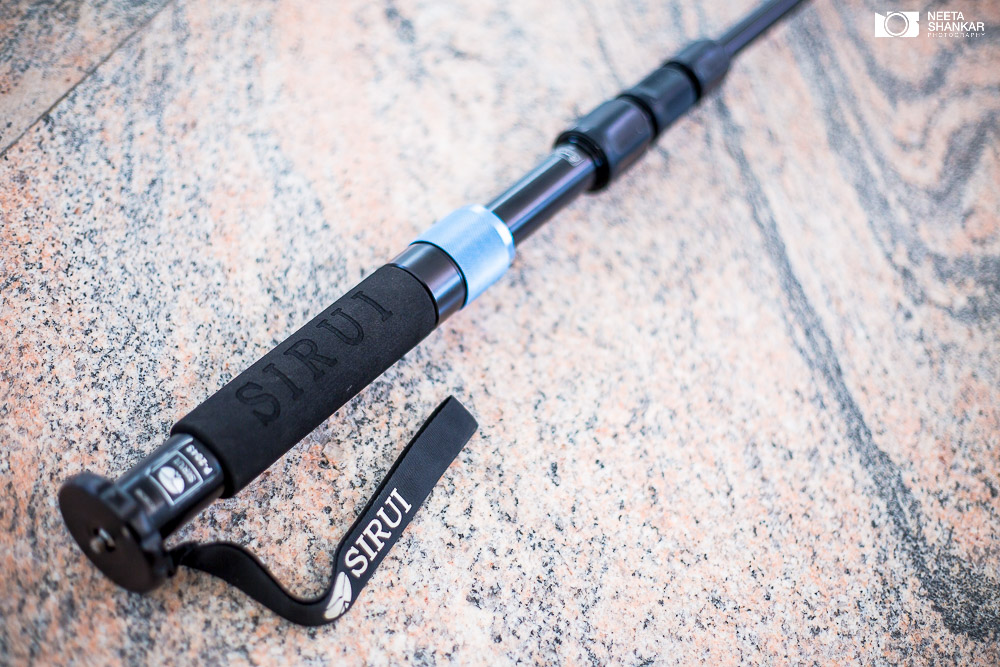 The monopod is tallest at 63". The leg sections are made from high-quality aluminium and so are the detachable folding feet at the base of the monopod. Instead of flip locks, the height is adjusted using the three twist locks which join three extendable sections. While the top two extendable leg sections open with ease, the last one at the bottom is pretty stiff to open, especially if you're in a hurry while you're shooting. The twist locks take some practice to get used to especially if you're used to the flip locks like in the conventional tripods. This is one factor that I'm still not comfortable with because twisting a lock open and adjusting the height and twisting the lock close takes a fraction longer than it would with a flip lock. In theory, sealed twist-locks are more reliable than the flip locks in terms of securely locking the extensions and hence, have the ability to support more weight. It is also supposedly easier to handle the twist locks with cold, wet, and gloved hands – an advantage I can definitely get behind for all my photo tours to cold places like Ladakh!
Since we purchased this monopod, Sirui has launched an EPS series as well which comes with flip locks and is slightly lighter at 1.14Kgs too! If you are not comfortable with twist locks or are used to other brand monopods, you can opt for the Sirui EP204S which costs almost the same as the P204S. The only difference between the two series is that twist locks allow for building monopods that take more load. So if you want to pick up a monopod that can take up to 12Kilos load, PS series (P424S) will be the only option as EPS Series max load capacity is just 8 Kilos. But since 8 Kilos is more than sufficient for a full frame DSLR mounted with an L-series lens up to 200mm, I would recommend the EP204S. It's not yet available on Amazon India but is available with most well-known photo/video equipment dealers in India.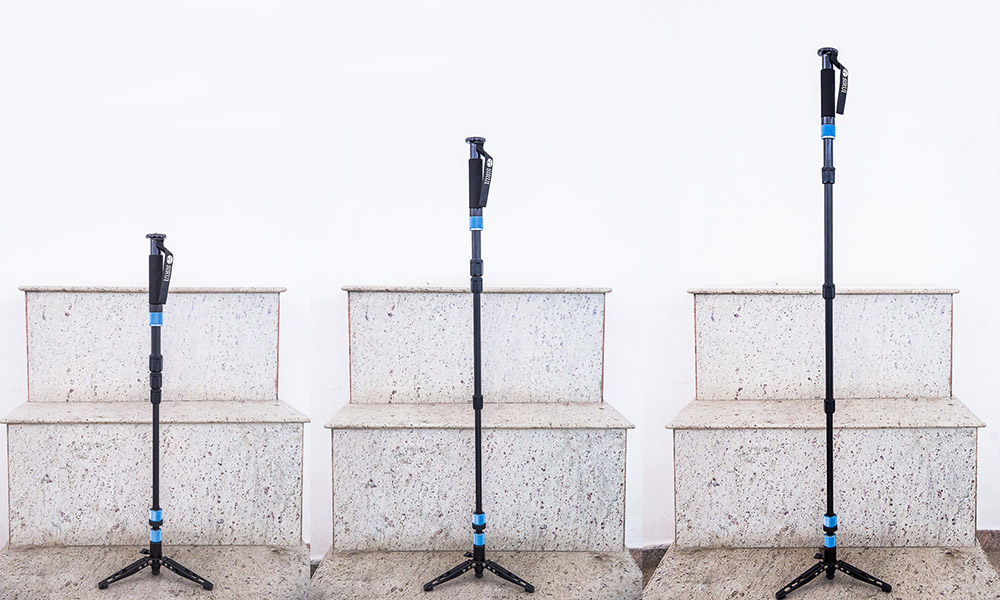 The monopod has a rubber base foot for conventional use and an extendable spike foot for outdoor usage. To attach the equipment to the monopod, there is a mounting plate just like one provided in conventional tripods but what is unconventional about it is that the circular mounting plate is actually double-headed and comes with a reversible screw that is 1/4″ and 3/8″ in size to accommodate a variety of cameras.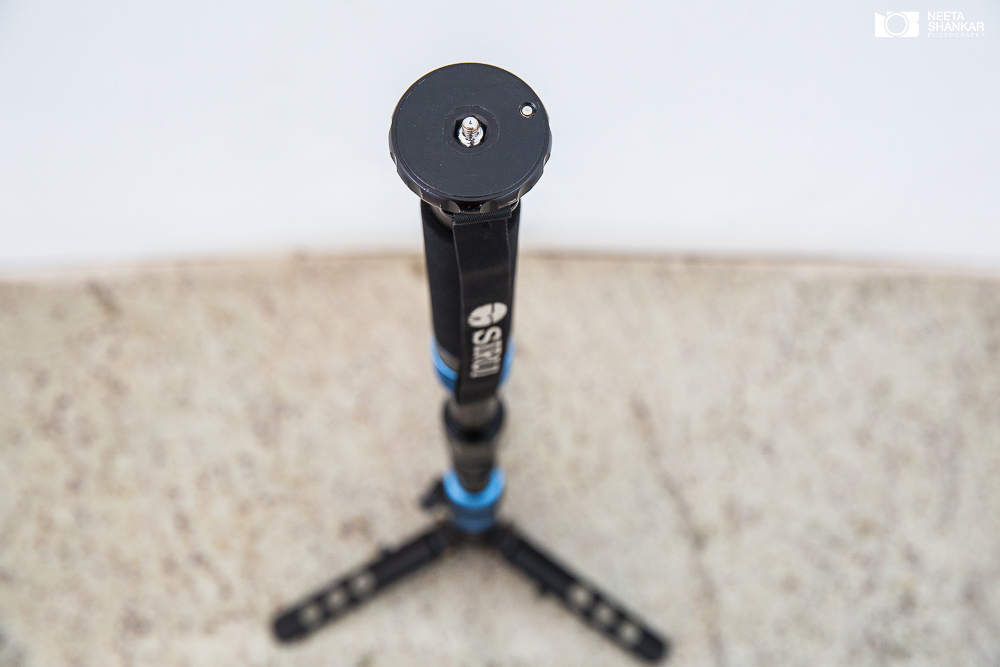 We've been using the Sirui P204S mostly for Wedding films. We mostly use it with our ultra wide 16-35mm, primes like 50mm f/1.2 and sometimes even with the massive 70-200mm f2.8 IS II for close-ups and detail shots. If the three-legged base is being used, it helps to have a foot on one of the legs for additional stability, especially if the provision for the 20-degree tilt in any direction is being used. This monopod is said to be suited for both video and photo (because of the removable fold-down feet support extension). Although, I haven't tried using it for Photography as I generally do not use a monopod for any of my still images. The only time I prefer to not shoot handheld is when I am shooting landscapes at long exposures, for which I prefer a stable tripod. You can check out my review of an inexpensive, lightweight but stable tripod that I regularly carry with me on my photo tours.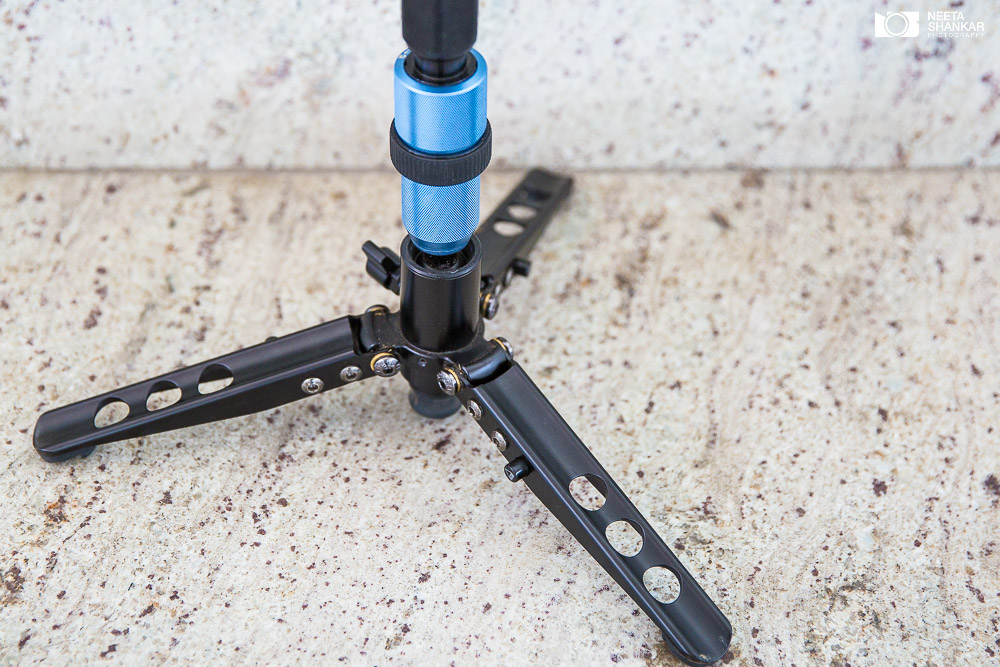 Pros
⦁ Built with high-quality aluminium – sturdy monopod.
⦁ Detachable three foldable feet for extra stability (and, once detached, it can be used as a table-top tripod!).
⦁ Smooth 360 degree pan without having to purchase a pan-head.
⦁ Twist locks for secure locking and heavy payload (can easily carry my 70-200mm f/2.8 IS II lens!).
⦁ A really good quality padded bag.
⦁ Not so expensive! Worth the price.
Cons
⦁ Twist locks take some getting used to. (You can opt for the newer Sirui EP204S which is essentially the same monopod with flip-locks).
Competition:
Apart from this, I had also shortlisted Manfrotto MMXPROA4 Video Monopod. This monopod is also an excellent choice. One of my friends has this and I have tried it. The flip-locks are really smooth and it's easy and quick to adjust the height. But it doesn't come with the panning feature or the detachable feet support extension by default although you can purchase the same separately. The monopod alone costs 5565 INR and the full kit with the detachable feet and a panning video head costs about 24590 INR.
Conclusion
With this monopod, you get what you pay for. And what you pay for is a great quality monopod that has versatile uses. Monopod is sturdy and highly functional with the panning and tilting features. Though it is slightly on the heavy side, it is convenient to handle most of the times. A table-top tripod was on my wishlist for long but now that I have it as part of this monopod, I am covered! I'm definitely excited about using this more often during the weddings and, maybe, on some personal projects as well.
With the sudden boom in the digital photography industry, there are a huge number of options for photography equipment and accessories in the market. Most of the products have such good marketing campaigns built around them, that we as consumers sometimes end up investing in equipment which we don't need, or are not as useful and amazing as they are advertised to be. And none of these equipment comes cheap. I've always believed in buying good quality, but not necessarily the most expensive, equipment which can serve me well for a long time. I love well-designed and practical products. I also love upcoming promising brands (the underdogs) who provide unbeatable quality & features at a competitive price. With these reviews, I hope I can help the followers of my Website and Facebook Page in making informed choices while buying new gear.
P.S. This is not a sponsored post. I have no affiliations with the brands Sirui or Manfrotto. These are honest reviews of the equipment that I currently own and/or have tried and loved! Although, I do sometimes get to try out and review new products for various brands as a social media influencer, opinions expressed here are my own and the cons are as transparently listed as the pros. Writing detailed reviews takes time and effort. If you are planning to buy any of the equipment after reading my reviews, please consider buying them from the affiliate links mentioned in the post so that I can continue reviewing more equipment.