For some time now, I have been looking for a lightweight and compact tripod that is sturdy and easy to use.
As a photographer who travels quite frequently, I have most often detested carrying a tripod along because of the additional weight. My photography equipment is heavy enough, and to add to that when I have to walk around with a heavy tripod especially in sunny weather conditions, it just kills the joy of travelling for me. But as Murphy's law would have it, it's always when you don't carry a piece of gear that you will need it the most! If you're serious about your photography, a tripod of any type is a must.
Performance and Pricing
It was only recently that I picked up a Vanguard Alta+ 233 AP tripod for one of my out-station shoots. I must say that I am impressed with the quality it offers at such a reasonable price. The tripod sells with the head PH-22 for a little over 8000 INR in India and offers all the features that most professional tripods offer. Since most of the good tripod and head combos I have used earlier have cost more than double, I was a little apprehensive if the tripod would be sturdy enough for my gear (5d Mark III, 24-70mm f/2.8, 70-200mm f/2.8 IS II). However, after using it extensively for over a week, I am pleasantly surprised!
The size and weight of the tripod is just about perfect! In fact, it's compact enough to fit into my check-in luggage. This way I don't have to worry about my tripod getting damaged in transit or about forgetting to collect it after landing. Additionally, it comes with a tripod carry bag which is a nice touch. It weighs just under 1 kg with bag which makes it quite easy on the shoulders!
Strong, Sturdy and Smooth
One of the first things you notice in this tripod is its fine finishing. The legs have soft foam grip and the tripod in itself looks elegant. It's made of aluminum alloy which makes it strong and durable. While carbon fiber is more preferable material for a tripod, it comes at a price! Carbon supposedly dampens vibrations better, how much this matters is a personal call. For most of my work, this aluminum alloy tripod held its own and was reliable. Vanguard claims it can hold up to 3kgs weight which makes it suitable with all contemporary DSLRs and lenses. I used it all the time outdoors with my 5D Mark iii and 24-70 f/2.8 under slightly windy conditions and the tripod was stable as a rock. I also tried it with the heavy 70-200 2.8 and it was surprisingly sturdy even when the legs were completely extended (total weight being about 2.5+ kg).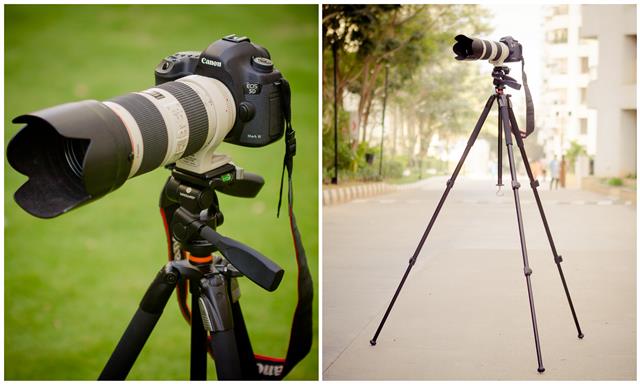 The tripod also comes with an accessory hook (to hang your accessory bag, or a bag of weights) for better stabilization. I am yet to try the tripod in extremely windy and testing conditions. But my bet is that it can surely perform well with additional weights attached.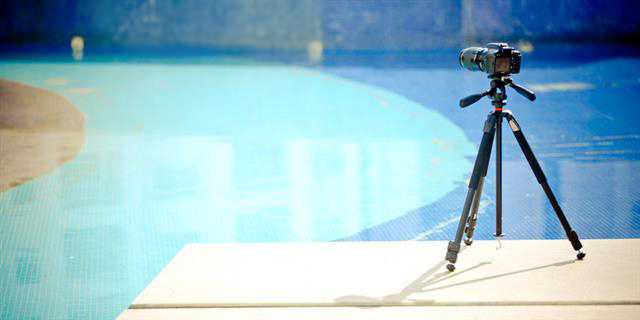 The Alta 233AP not just holds the camera steady but also holds its own against its competition!
What is truly splendid about this tripod is the attention paid to detail. It comes with a shock control rubber ring that absorbs the shock caused by accidentally releasing the center column. In addition, the tripod consists of a dual locking system which helps avoid the possibility of accidentally dropping the camera! The safety lock snaps automatically into locked position when the quick release plate is placed on the tripod head and is released only when you simultaneously push a button and pull the lever. Unlike other tripods I have used, quick release plate can be tightened and loosened on camera without much hassle.
I simply love the way the center column dismantles for various uses. You can detach the accessory hook with the press of a button and unscrew the hook from it to convert it to a low-angle adapter. You can also detach the pan-head from the center column using an Allen key (provided with the tripod). The rubber feet can be rotated by hand to expose metal spikes for stable use on uneven surfaces like mud/grass. Vanguard has indeed put in a lot of thought into designing this product!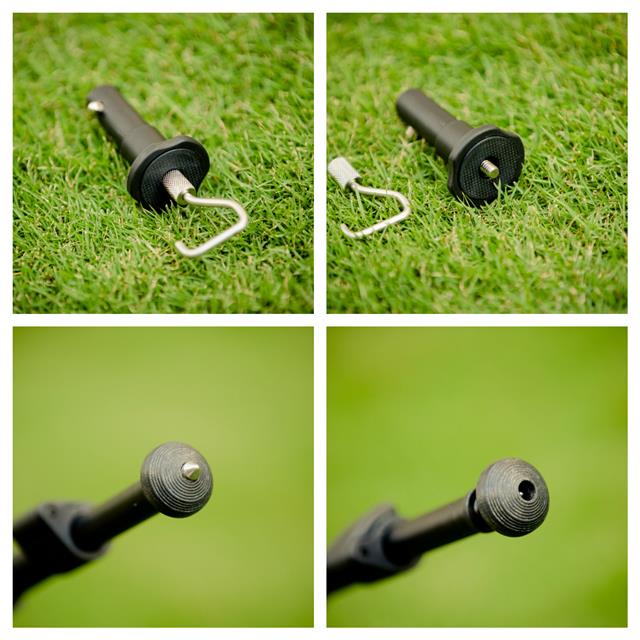 The tripod stretches to a height of a little over 5.5 feet when completely extended which is just about right for average Indian height. The tripod legs can be adjusted and locked at 25, 50 and 80 degrees with the help of buttons. (These buttons are a little hard but works fine). The PH-22 head is made of magnesium alloy. It has two bubble levels for precision. The pan-head has two levers controlling motion in three directions. One of the levers controls motion in two directions (one for panning and another for angle adjustment). Completely tightening the lever will restrict both movements while loosening the lever by a thread will allow 360 degree movement.
This tripod is great for shooting the following;
1) Long exposure / night photography
Great for shooting in low light. It holds the camera steady in most field conditions. I would recommend using the 2-sec self-timer or a shutter release for all the shots to avoid causing any vibrations.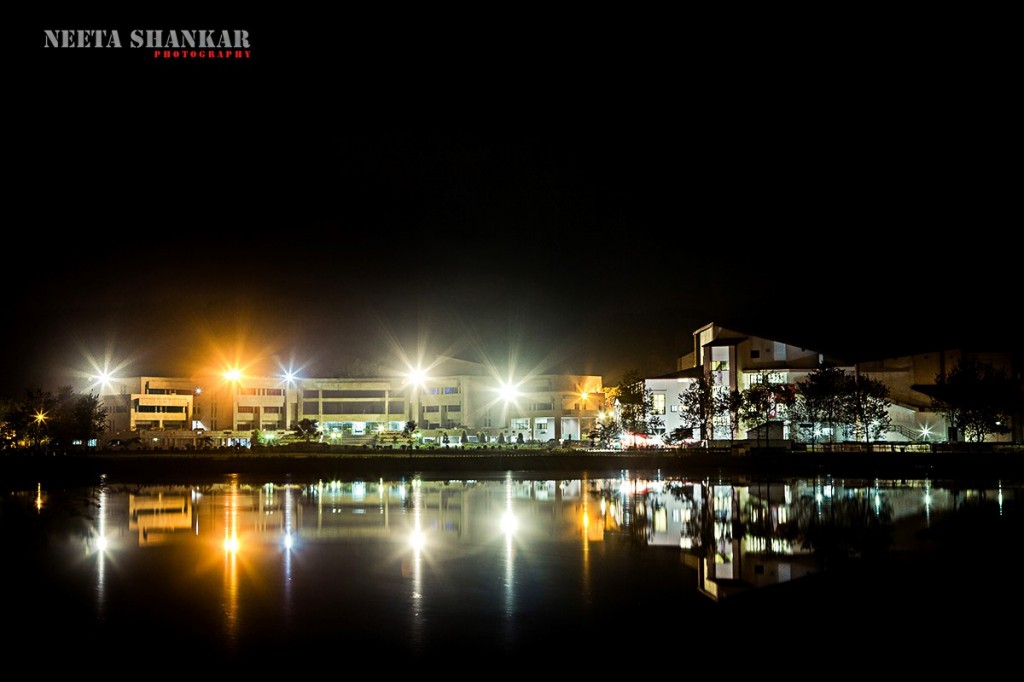 2) Low angle photography
How-to: To shoot at a low angle, just extend the tripod legs to 80 degrees and snap it into position. Remove the accessory hook from the center column and detach the column from the tripod. Unscrew the accessory hook from its attachment which can now be used as a low angle adapter. This can be snapped into place (with the help of a button) onto the tripod. The camera can be directly attached to this screw for an extremely low angled shot. You can shoot as low as 5 inches from the ground.
If you would like the ability to adjust the angle, then you can un-mount the head from the center column (using the Allen Key) and attach it to the low angle adapter. This may be a little tedious while on field. I would highly recommend carrying a small pouch to throw the small screws into.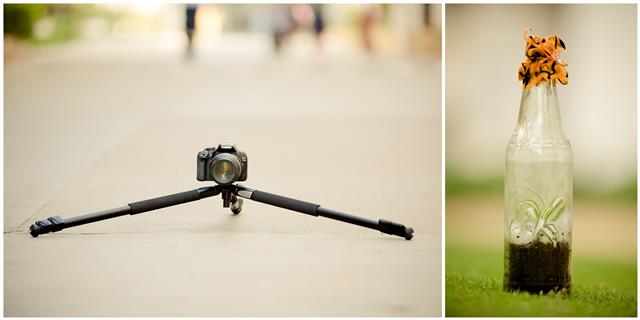 3) Macro Photography
How-to: To use this tripod for macro photography, detach the accessory hook, pull out the center column and reverse it from under the tripod, snap the accessory hook into place on the top.
A tripod is extremely essential while shooting macro since we are working with such shallow depth of field. A small vibration and you could lose your focus. There were noticeable vibrations when I released the shutter button while the camera was attached upside down for macro photography. This is not much of a bother for me as I always use a cable shutter release for macro shots.

4) Video, Panoramic images, Panning, Motion blur
The pan-head offers easy 360 degree panoramic movement which suits photos as well as video. With almost all DSLRs today offering HD video abilities, this pan-head is a big plus for video enthusiasts. The panning is silent and smooth.
Pan Head is also quite convenient for capturing panoramic images, panning shots and motion blur.
While two-lever head is fine for video, it takes some getting used to for panoramic images and panning shots. I would have preferred a 3 lever head or a ball head.
Final Words
There are some run of the mill tripods available in the market but these are flimsy and will not hold the weight of DSLRs with heavy lenses in the field. They are best suited for compact cameras. However, if you are planning to invest in a good and reliable tripod with professional features, Alta+ 233AP is a steal!
Pros:
Light-weight, Compact, and ideal for travel.
Well-engineered
Value for Money
Sturdy and reliable and effortlessly takes the weight of professional equipment upto 3 kgs.
Suitable for both Photos (including low angle and macro photography) and Video
Cons:
Made of Aluminum Alloy (Carbon Fiber is generally lighter and more rigid but a lot more expensive.)
While shooting Macro with the camera attached upside down, the vibrations are noticeable. Use of a shutter release will avoid vibrations.
Tripod comes with a pan-head which is great when you shoot both photo and video. But for someone like me who does not shoot videos, a ball-head would be more convenient. (A ball-head can be purchased separately and used on the tripod.) I would want an option to purchase the tripod with a ball-head.
Instruction booklet is all pictures and takes a while to understand.
These cons however are not really major and I highly recommend this tripod to anyone who cares for value for money.
You can buy Vanguard Alta 233AP from Flipkart
P.S. The opinions expressed in these reviews were made from my first-hand experience with the equipment in everyday shooting conditions. The equipment may or may not function the same when used in extremely testing conditions.
© 2014 Neeta Shankar Photography. All rights reserved.
If you want me to shoot your portfolio / Wedding / Couple Portraits – Book now!
[fbcomments width="100%" height="500″count="off" num="25″]