Recently I got the chance to use Xeen cine prime lens kit (14mm T3.1, 35mm T1.5, 50mm T1.5, and 85mm T1.5) for our Wedding Cinematography work and I am penning down my initial thoughts on this hoping it will help others who are interested to explore this option in their cinematography. As a self-taught photographer, I have mostly established the workflow for our Wedding work through trial and error and some good old online research. I am always eager to try new equipment and explore the possibilities of improving the workflow. So read on for my views on Xeen cine-lenses.
Xeen Lenses look and feel premium and professional. Build quality is very sturdy aluminum as would be expected from a cine lens. I mostly used the 35mm because that's my current favorite focal length for both photo and video. I tried using it with the Moza Air 2 because a strong gimbal like Moza Air 2 with its 4.2 Kilo payload capacity can handle the weight of Xeen cine lenses. Cine lenses being manual lenses, it makes sense to pair them with the Moza Air 2 because of the availability and affordability of iFocus follow focus motor. Balancing the lens on the Air 2 gimbal took us a fair while to figure out how to mount the ifocus motor. This will, of course, be much faster once you get to used to it.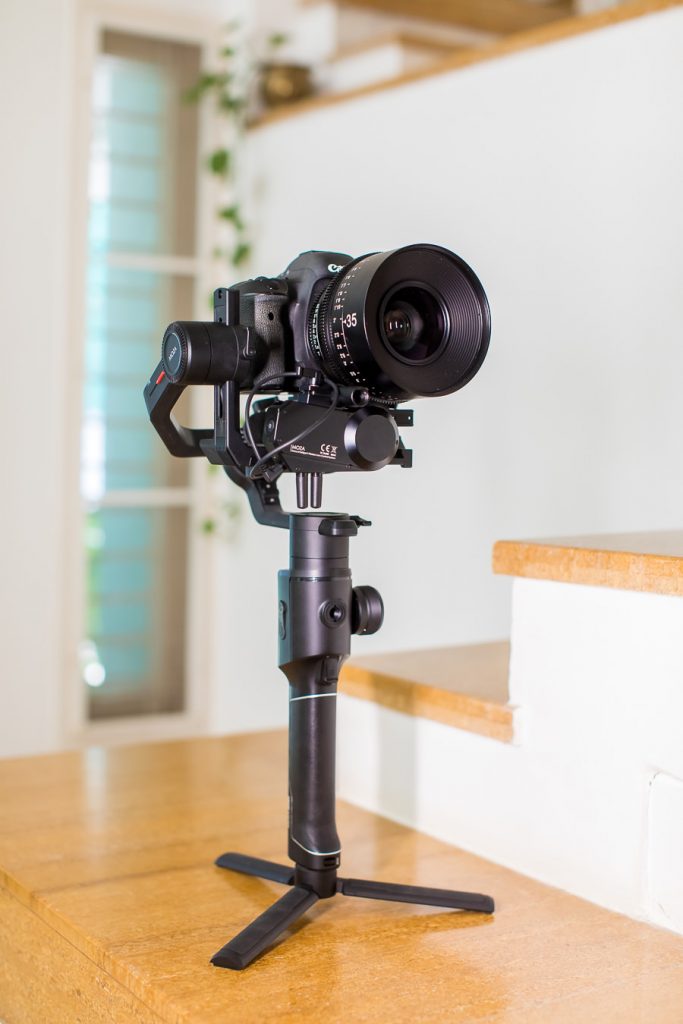 So, why Cine lenses? Why not Photo lenses for video?
There are multiple reasons for choosing a cine lens over a photo/still lens for video. Because as the name suggests, these are specialized lenses designed for recording continuous motion. If you want to change the aperture in the middle of a shot or shift focus smoothly from one subject to another without interrupting the viewer's attention, then cine lenses are what you need. Up until recently, cine lenses were quite expensive making it an unusual choice for wedding cinematography. Some of the true cine lenses like the ones from Zeiss, Cooke, Canon cost in the range of 20 to 30 Lakhs. But off-late with the growing popularity of DSLR video, brands like Xeen make budget cine lenses which are sort of affordable. For example, Xeen cinema prime lenses are priced around 1.3 Lakhs to 1.5 Lakhs which is almost the same cost as some of the L series still lenses from Canon. So if you are into full-time film-making and only shoot video, then cine lenses make more sense to you.
The advantages of a cine lens are mainly its optical quality, steady and smooth focusing, beautiful bokeh, consistent output, even exposure and sharpness across the entire frame (also less vignetting, aberrations, distortion etc). Cine lenses usually have a focus ring, aperture ring and zoom ring (in case of zoom lenses). These rings are accompanied by accurate markings of focus distance, T-stops and focal length (in case of zooms).

Let's start with the focus. When you are filming moving subjects, you would want to shift the focus smoothly while "following" the subject. This is a little difficult with photo lenses as users need maximum precision to achieve accurate focus while following a moving subject. Of course, using follow focus units with photo lenses allows for more precise control. But you still have a very little room for movement as the focus throw (amount of rotation needed to shift focus from minimum focusing distance to infinity) on regular lenses is quite short. This is so that the focusing is quick while shooting stills. Cine lenses, on the other hand, have a very large focus throw. It also helps that their focus rings have hard stops and markings which help in achieving accurate and smooth focus shifts. Imagine a scene where you have to shift focus smoothly from one subject to another. With the help of the accurate markings on the focus ring, you can figure out precisely how much rotation is required on the focus ring to achieve the change in focus required. Also, Photo lenses are prone to "focus breathing", where the frame seems slightly zoomed into when you are changing the focus. This "focus breathing" – while it doesn't matter at all in photos, can appear quite distracting in a video. Cine lenses are built to not have this issue. They are extremely smooth while focusing.
Also, Cine lenses are more accurate in terms of exposure. Because they have aperture rings marked with t-stops instead of f-stops. Basically, the f-stop is a theoretical value of the diameter of the lens opening; the t-stop is an actual tested value of how much light actually makes it to the sensor having passed through the aperture and the elements in the lens. It takes into account the light lost along the way because of refraction, reflection, and absorption. So if you are using multiple lenses to shoot a scene, setting it to a certain T-stop e.g. T2.8 will give you more consistent exposure than setting it to a certain f-stop in photo-lenses because different photo lenses may transmit a different amount of light at the same f-stop because of the way the optics are built. But the T-stops being actual tested values ensure exactly the same amount of light is reaching the sensor every time with any lens.
The aperture ring in a cine lens is extremely smooth so you can adjust the aperture much more smoothly and change the exposure without it distracting the viewer. Imagine a scene where you are following your subject from an indoor setting to outdoors. The change in exposure by stopping down the lens has to happen smoothly without feeling too abrupt. This is where the smooth aperture ring comes in handy. Now if you have the ifocus motor connected to aperture ring instead of focus ring and lets say you have prefocused on your subject and are following the subject at a constant distance without having to change focus, then you can have the follow focus controlling the aperture and changing the exposure smoothly without having to rely on auto ISO. Of course, this is a rare case. Most often you will benefit from controlling the focus ring instead of the aperture ring.
Cine lenses also have the least amount of vignetting, chromatic aberrations and barrel distortion compared to photo lenses. While these optical defects are easily correctable in photos, they are quite evident in video and cannot be fixed easily. So cine lenses are built to minimize these defects. Cine lenses are sharper across the frame, from corner to corner. They produce a beautiful bokeh and great lens flares which adds to the look. Cine lenses from the same brand are more consistent with color and contrast while photo lenses from the same brand often differ in color consistency. E.g. I always find my Canon 85mm f1.2 photo lens to produce better color and contrast compared to a few other Canon lenses. But this is not the case with cine lenses. All cine lenses of a brand will produce similar color and contrast making the post-production work easier and the overall output more consistent.
And unlike photo lenses that come in a wide variety of sizes and lengths, cine lenses have a standard size. So it not only helps in using the same accessories as the ND filters across different lenses. But it also ensures that accessories like the follow focus system, aperture control units do not require reconfiguration every time you change the lens. This is the case with Xeen too with the 35, 50, 85 set of T1.5 lenses all are of the same size and similar weight. The 14mm however, is shorter than the other lenses but is consistent with the rest in terms if front diameter.
While on the topic of how cine lenses are far better for video, there is another point that needs to be mentioned. Cine Zoom lenses are also parfocal – once you focus on a subject, zooming in and out does not shift the focus. This is a great advantage over using photo lenses for video in which you need to adjust focus again once you zoom in or out. Since Xeen lenses are all primes, I didn't get to try this out. Hopefully, Xeen will soon manufacture some affordable zoom cine lenses as well.
The biggest disadvantage of using a cine lens is its weight. Xeen lenses all weigh between 1.17 to 1.37 Kilos. While it doesn't matter much when you are shooting on a monopod, slider, tripod, it matters a lot while shooting with a gimbal like the Moza Air 2. Air 2 itself being slightly on the heavier side, it will require one to be quite fit to shoot with it with a DSLR and cine lens on. And to be honest for me, it has been difficult. I have mostly shot short clips with it, with breaks. The other disadvantage of using cine lens is the absence of having autofocus so you will need to get a follow focus motor for tracking movements. Like I already mentioned Moza ifocus follow focus motor is quite affordable – around 15000 INR. Using the follow focus motor will give you really smooth tracking which is an advantage. But keep in mind that it will further add to the weight, setup time and bulk of the contraption.
I have definitely loved trying the Xeen cine lenses in relaxed projects. Keeping in mind the chaotic scene that's an Indian Wedding, portability and weight are factors that are very important while choosing equipment. Also, since it requires long hours of continuous shooting, it's a bit difficult and restricting. But, having said that, if you are fit and strong, this is a great combination to use to produce more professional footage. I would definitely recommend these for video projects that can be shot in a controlled environment but require high precision and quality such as Ad Films, Short films, Music Videos, Promotional Videos, etc.
Have you ever tried a cine lens? What were your impressions? Let me know in comments!